Mother Walks Into Shelter And Sees Cat, But When She Gets Closer, She's Brought To Tears
When Scarlette Tipton was just 10 months old, she had her arm amputated. It was hard on her and the family, but they continued to remain strong. And after taking this trip, everything seemed worth it.
Scarlette's mom, Simone Tipton decided to take Scarlette to a shelter now that she is 2 years old. But when they got there, they were welcomed by a little kitten, who was in pretty rough shape.
"Owies, the cat is hurting," said Scarlette when she first saw Doc the rescue kitten. The poor fur baby had drainage tubes on it's side and some staples, and could see that it was in pain, while touching her own amputation scar.
Despite her being so young, Scarlette knows that this cat is special, and just like her.
The kitten, originally named Holly, had to have her right paw amputated at the San Jacinto Valley Animal Campus in riverside County, since she was found bleeding badly after getting her paw caught while trying to sleep in the belt of a car engine for stay warm.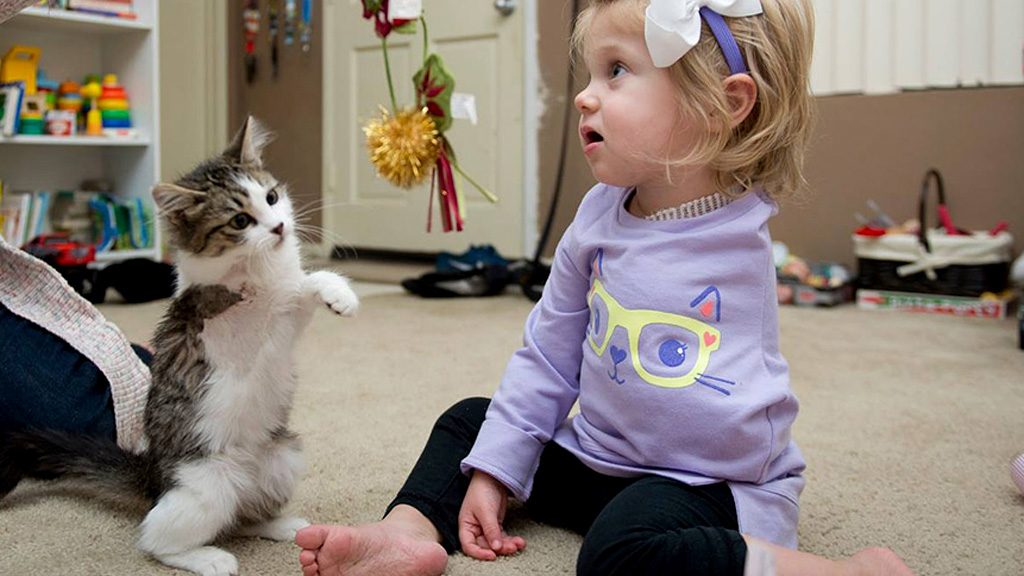 Her paw was hanging off, but luckily she was rescued before she could completely bleed out.
The family decided to go visit the kitten after learning about her predicament. But when they actually saw her, they knew that they weren't leaving without her.
They decided to adopt the little kitten that night, and named her Doc, after Scarlette's favorite cartoon show.
We are so glad that this family adopted Doc, and that she fits in so well with this family. It truly is super heartwarming, and I know that Scarlette and Doc will be inseparable!
If you are thankful that this kitten was rescued, and is now doing so well with her new loving family, SHARE this post!